Simple and Easy to Use Print Management Software

Print Job Manager
Print Job Manager can be installed on a single computer, and you will be able to track and manage the printing of all other computers. It provides centralized printer manager/print tracker/print counter/printer monitor. It is easy to use Print Management Software allowing management, control, quota, limit, tracking, count, audit and printing restrictions in Windows/Linux/Unix and Mac OS clients.
You can monitor all your printers from a single location and send alerts by email, log and audit printing activity, analyze and control printing costs, charge print jobs by billing code entry, confirm and authenticate printing on the workstation before the actual print, eliminate paper wastage and reduce maintenance time of your printers. Print Job Manager supports all brands of printers and all types of printing environments (print server/non-print server/direct IP printer/workstation connected printer). The software doesn't require you to have a Windows/Unix/Linux print server to track print jobs, and the software doesn't have to be installed on the Windows print server if you use Windows print server.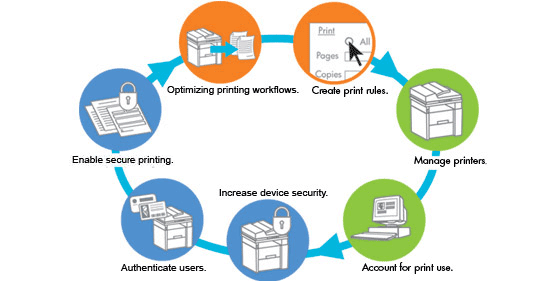 Print Job Manager is the choice for the majority of our customers for day-to-day print management and control. Try before you buy with our 30-day free trial that lets you test drive our easy-to-use software to discover how it's going to fit with your business. Businesses and educational facilities are using this innovative print control solution to manage printers, count printing, reduce printing costs and increased efficiency.
Print Job Manager solves real business needs.

For print auditing purpose, we implement Print Job Manager to track around 400 printers in which 150 printers are set up locally with USB, parallel or TCP/IP port. Other printers are set up on print servers which are shared. Print Job Manager has allowed us to effectively record all of our print jobs, make it easier to deal with document output, reduce costs, and distribute expenses consequently. We have been satisfied with PrinterAdmin software.

- Roger Getzmann, Coca-Cola Beverages AG, Switzerland



Print Job Manager has done a tremendous job on our college campus of lowering printing costs. We evaluated several different print manager software, and PrinterAdmin's was certainly the best solution for all our needs. Their technical support has continued to assist us to customize their product, and the paper and toner savings are more than spend on the application in less than a year. In accordance with the good results of PrinterAdmin's program, we are planning on using this program on two print servers, more than 1000 computers, and 10 independent labs at CNM.

- Francis J. Heise, MBA, Computer Labs Manager, Central New Mexico Community College, USA



We have been progressing nicely with the Print Job Manager, and we are very pleased with it. We now are able to help students with research or school work instead of just dealing with the printers. It has really made a tremendous impact on the library. Students like it too. It prevents a few students from abusing the library privileges. We are no longer kinkos clerks--we are real librarians.

- Arlene Morales, Librarian, Midwood High School, USA



In a small architectural firm, the costs related to printing (especially oversized documents) can easily take a sizable bite out of project fees and such a loss can be very difficult to absorb. We needed a way to track and account for our in-house printing so that we could transfer the printing expenses associated with project documentation to our clients. First and foremost, we needed a package that would provide features like tracking by project number and a way for our users to define how to bill the print from their local machine. We looked at several offerings, but found that Print Job Manager paired with Print Job Agent fit the bill perfectly. Second, we needed a solution that would be simple to install and operate since there is no distinct I.T. department in our small office.

- Michael Laird, Architect, Shaw Hofstra + Associates, USA
Easy To Install and Use Print Job Manager is a very easy to use software. It supports both Windows print server and direct IP printing environments. You can install it on any computer (either on a workstation or a server). It does not require any changes to your current network, printer or workstation settings. In just a few minutes, you'll be able to manage, control, quota, restrict, count, audit and charge all printing activity in your environment.
Printer Manager & Print Monitor Print Job Manager manages and monitors all your print jobs from a single location. It can view, pause, resume, restart, or cancel multiple print jobs on different printers at one time. It can also delete all unclaimed print jobs automatically based on a user-defined time or user-defined policies. The administrator can view all print jobs, add/remove a user or update user account information (print quota, PIN, group, user status) through Windows or a web browser. The users can view and export their printing history, check the amount of money in their printing accounts or change their pin through a web browser. The software can count, quota, log, control and charge print jobs for all brands of printers and all types of printing with or without a Windows/Unix/Linux print server.
1. The printers/plotters on the Windows/Unix/Linux print-server computer and shared,
2. The printers/plotters connected to the network directly via the IP address (Users send the print jobs to the printer directly via the IP address of the printer, instead of to the shared printer on the Windows print server)
3. The printers/plotters connected to the workstations locally,
4. The printers/plotters connected to the print-server device (e.g., HP JetDirect print server).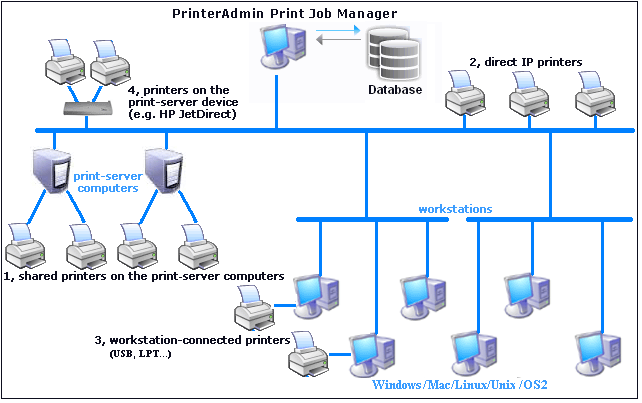 Print Counting & Print Tracking Print Job Manager captures the detail print job information including name of the user who sent the job, the document name, number of pages, total cost, submission time and date, destination printer, name of the computer from which the job was sent, duplex, color, paper size and print job size in Windows/Linux/Unix/Mac printing environments.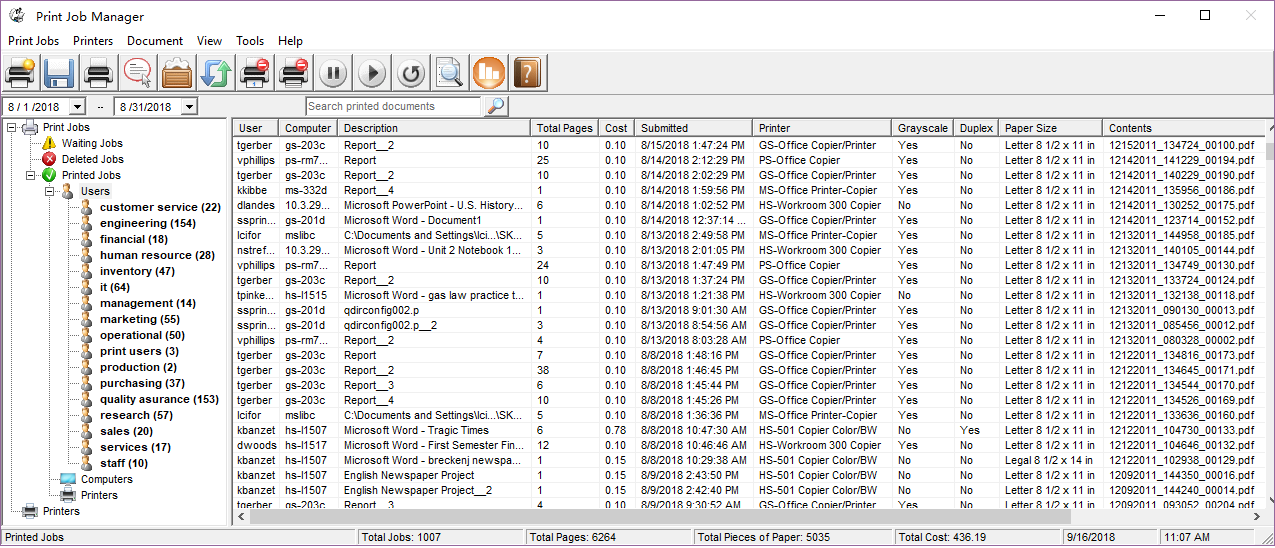 Create and Email Report Automatically Print Job Manager provides a reporting tool allowing you to generate 100 reports that can be exported to PDF, Word, Excel and rich text formats. The reports can be created in any language and sent by email automatically. The reports can also be viewed from the web browser. The reports are designed for your print cost analysis and client billing.








Backup and View the Content of Print Jobs Print Job Manager allows the administrator to view the content of waiting jobs/deleted jobs/printed jobs on the print server and archive the copy of the print jobs.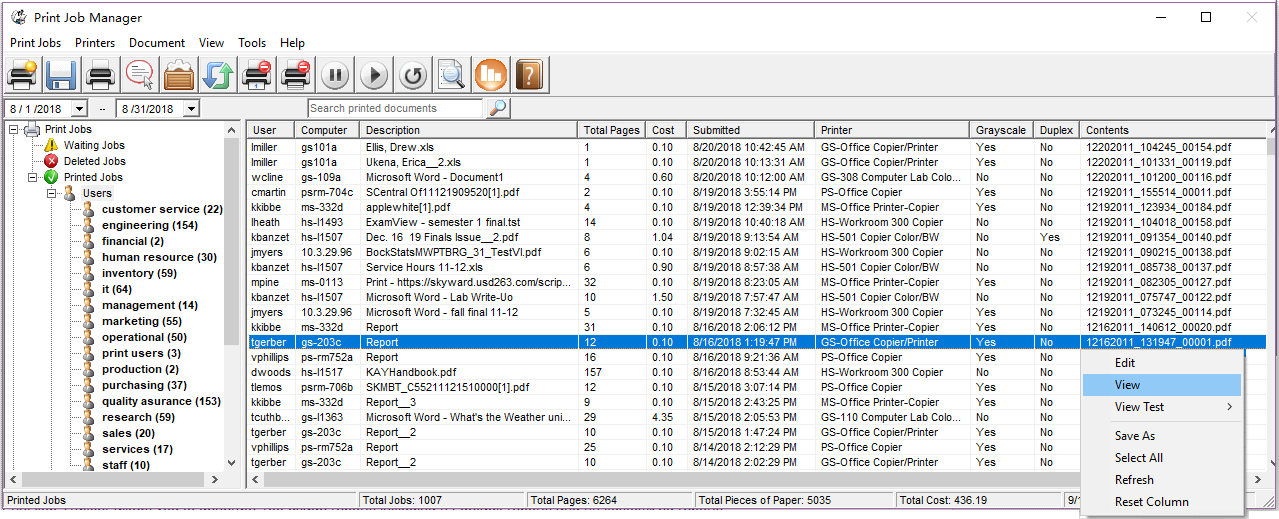 Print Accounting Print Job Manager charges print jobs based on pages, monochrome/color, duplex, paper size (68 standard paper sizes & 40 self-definable paper sizes).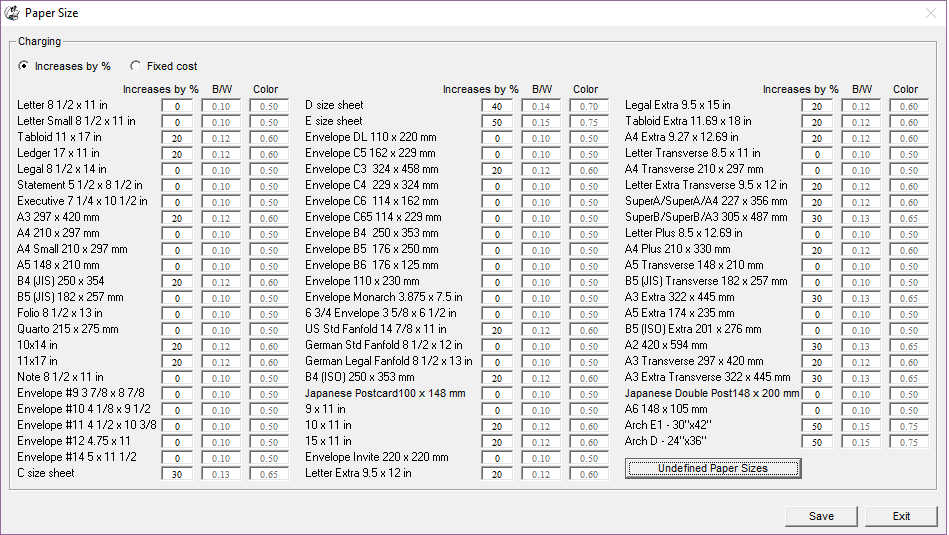 User Authentication and Print Notification Print Job Manager provides the users with popup notification showing the document name, destination printer name, total pages, cost, and balance. It also allows users to enter user ID/PIN from their Windows, Mac OSX/Classic, or Linux workstations before the print jobs can be printed.

Assign Project Code/Client Code/Job Code to a Print Job Print Job Manager allows users to bill the print jobs by entering client codes/project codes before the print jobs print from their Windows, Mac OSX/Classic, or Linux workstations. There is no limit for the number of client codes.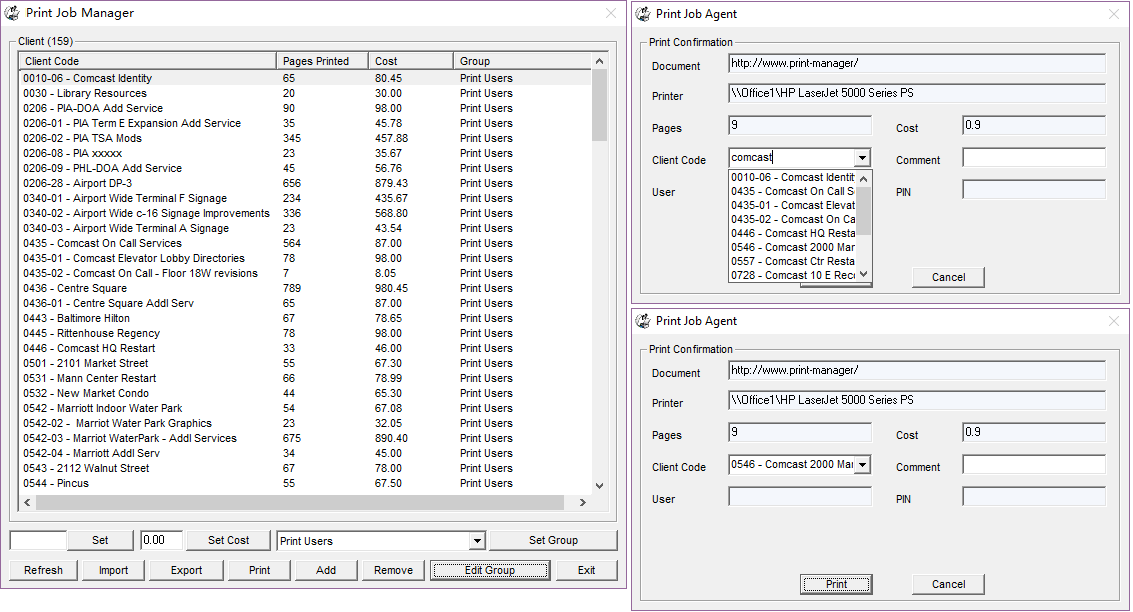 Print Control and Print Restriction by Rules Print Job Manager allows you to create print rules to pauses or cancels printing automatically by account status, the maximum allowable pages per print job per printer, document restrictions, computer restrictions, color restriction, print job size restriction and day/time.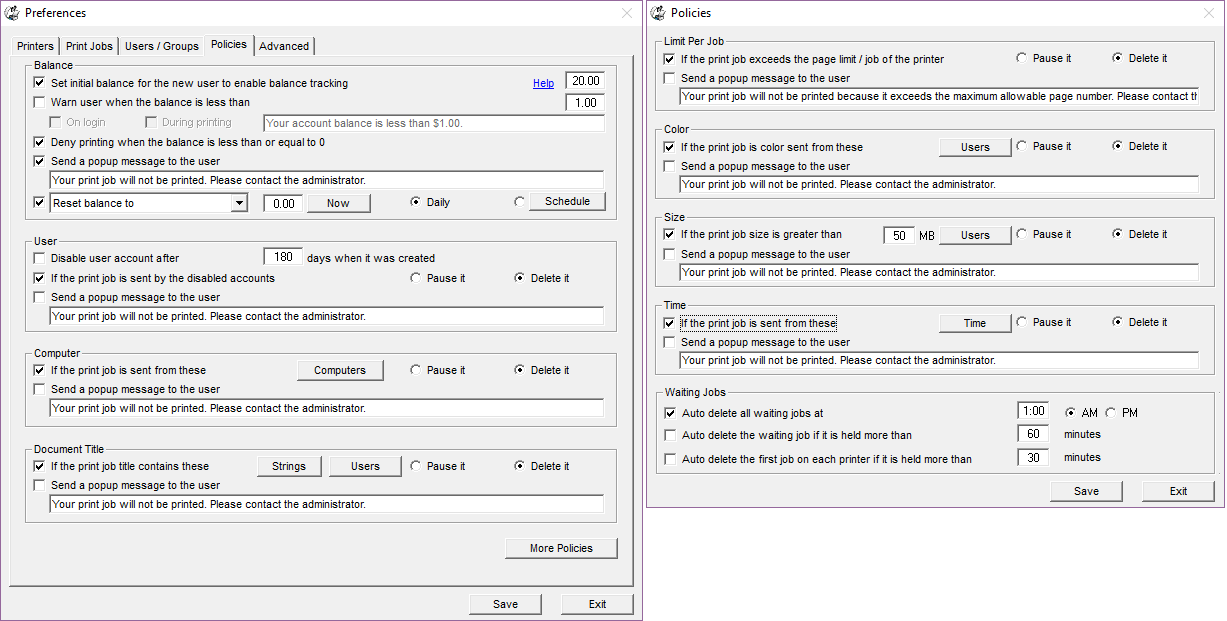 Allocate Print Quotas to User The print quota can be allocated to an individual user or allocated based on user's group. The new users can be assigned the pre-defined print quota automatically when they print the first time. The users/groups can be imported from a Windows Active Directory or a CSV file. The users can be required to set their password when they print the first time, or they can change the password from their computers any time.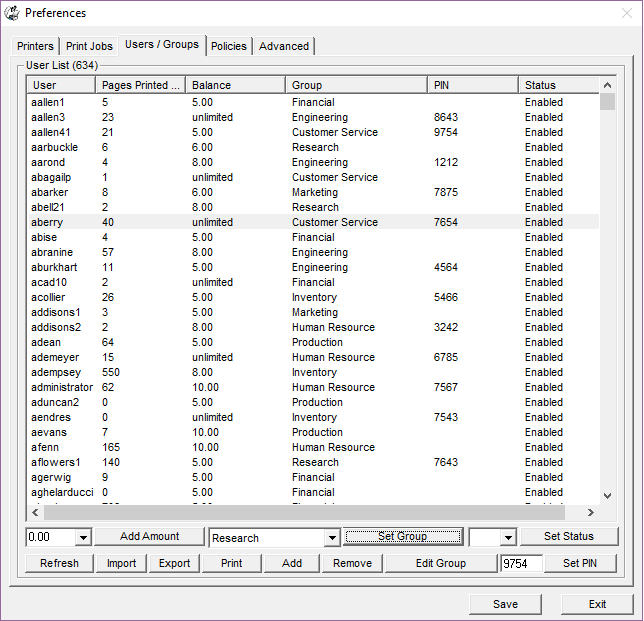 Printer Monitoring Print Job Manager monitors all your printers and print servers from a single location, and sends an alert message about printer toner low, out of paper, print error.. by email.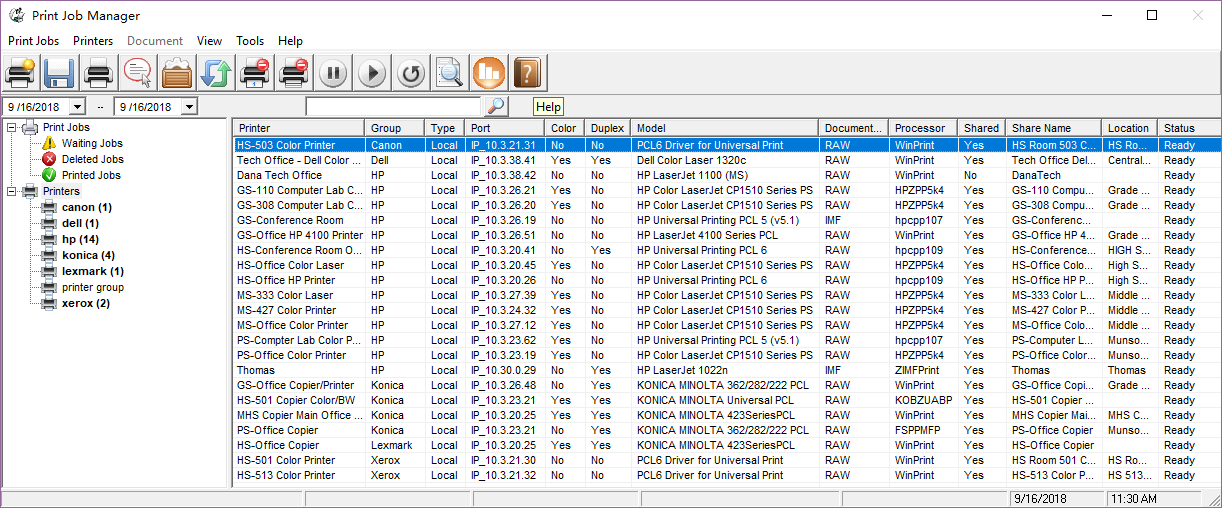 Retrieve Printer Information (Print Counter, Toner Level...) Print Job Manager can scan network printers and collect printer inventory information including print counter, ink/toner usage, serial number, printer model, printer IP address, MAC address. It may also allow you to reset the print counter and serial number remotely.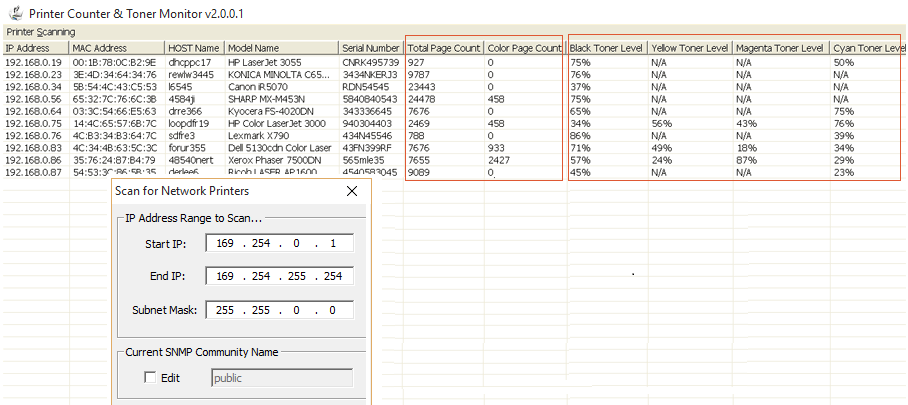 Web Interface

The software allows the administrator to see all print jobs, update user (print quota, PIN, group, user status) through a web browser. It also allows users to see and export their printing history, check print quota or change PIN through a web browser.