Support
If you can't find the answer in our FAQ and Knowledge Base, please
Option 1: Send Email / Online Form
Option 2: Schedule Remote Connection
Option 1: Send your questions to support@printeradmin.com or fill out the form below.
We will reply your message as soon as possible. If you can't find an email from us, make sure it's not accidentally placed into your junk or spam folder.
Option 2: We can connect to your computer to check between 8:00 am - 7:00 pm PST time .
1. Send an email to support@printeradmin.com to schedule the remote session with your available date and time,
2. Receive the email from support@printeradmin.com to confirm the date and time for remote session,
3. Download https://www.printeradmin.com/download/QuickSupport.exe,
4. Double click QuickSupport.exe to run it (no installation required),
5. Email "ID" and "Password" to support@printeradmin.com.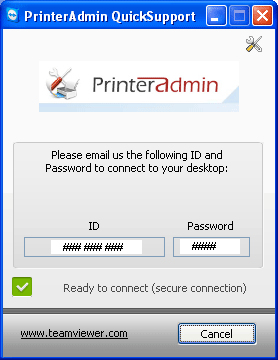 Option 3: Call 1-615-424-3849 between 8:00 am - 7:00 pm PST, Monday through Friday.