Online Demo -- Print Release Station User Mode with Prepaid Account
(
Download)
Step 1. In Preferences --> User Mode, select "Use prepaid account and pin to release the print job".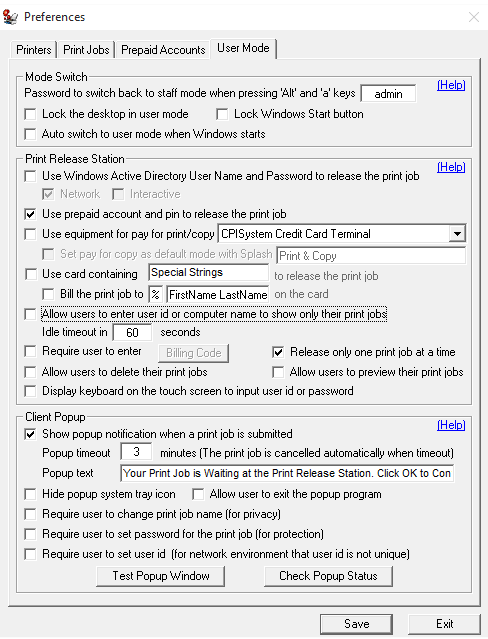 Step 2. In Preferences --> Prepaid Accounts", click "Add" button to add a new account. The user account can also be imported from Windows Active Directory or a CSV file (You can export the users to CSV file, add / update that CSV file, then import it back). If the cost of each page is 0.10 in Preferences --> Printers, then balance 1.00 means the user can print 10 pages.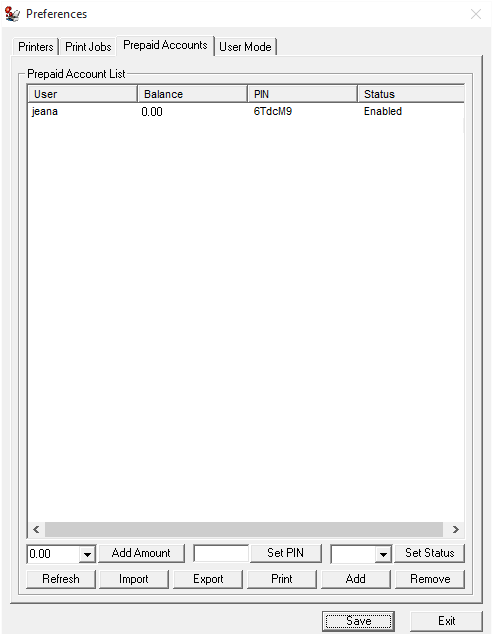 Note:
Print Release Station has addon CZ Remote Cashier that can be installed on any staff computer to manage prepaid account remotely. The remote cashier account can be created in Print Release Station Preferences -> Print Jobs.

Step 3. In Menu Print Jobs, click "Switch to User Mode". You can switch back to Staff Mode by pressing "Alt" and "a" keys together, then enter the password defined in Preferences --> User Mode.

Scenario
1. A user sends a print job from a workstation.
2. Print Release Station holds the print job with detail print job information.
3. TheUSer goes to the Print Release Station and types the prepaid account and pin to release the print job. The job can't be printed out if there is not enough balance left for that user.

Note: If the Primary – Replica infrastructure is used, the print job can be listed on both the Primary Print Release Station and the Replica Print Release Station and user can use either one to release their print jobs. Check Add a Replica Print Release Station .